2 HOURS OF SPA BLISS FOR $50
Yoga Class & Feet Treat Pedicure (reg $80)
Where can you get two hours of spa aahhh including a yoga class, a luxurious pedicure in a massaging seat,  and therapeutic light show for just $50? In one of our brand new shiatsu massaging, led light soothing, sanitary one-and-done bowl lined pedicure chairs!
Add a one-hour "Spa Direct" (skip the robe and save) Massage or Facial and save $20 more!
(offer is good everyday, does not include use of spa amenities and cannot be combined with any other packages, promotions or coupons. Exp 4/30/17) 
SKIP THE ROBE & SAVE  
APRIL SPA DIRECT DEAL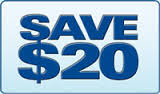 If you prefer a more direct route to your facial or  massage, this month, you can skip the robe, sauna and steam, and save $20.  You will change in the treatment room and and you won't get to lounge in the atrium or splash in the pool but, at this price, you can afford to relax a lot more often.
(Please mention the Spa Direct Deal when booking. Not valid on half hour services. Valid Monday –Thursday  April,2017.)